Download Forms
Please click download button to get all municipal services related forms. Please fill up forms and submit the hard copy to our office.
Download
Chairman Desk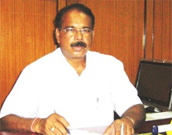 Let me convey my sincere thanks to the honorable citizens of the Municipal Area of Tarakeswar for continuously providing us their support as we meet the half way mark of our present legislative term at this Municipal office. It is a great pleasure for me and the Councillors of Tarakeswar Municipality to thank all of our well wishes on the occasion of introducing Municipality's website. Tarakeswar is known mainly for Lord Siva, the God who is worship round the year and as a result the Municipality has to serve the huge pilgrims coming to this town. The website will, I hope ,serve the purpose not only of the citizens of this town for available various service rendered by Govt. of W.B through local self Govt is Tarakeswar Municipality which, as a team of 15 Councillors works handle in hand to serve the people reside here.

Sri Swapan Samanta
Vice Chairman Desk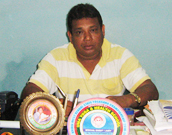 Tarakswar is a fast developing city. Every wards are now connected through concrete roads with each other. Sufficient drinking water is available in all the wards but in some cases there are some problem during summer. So more water supply project has been taken to remove this slight water problem. Led lights are install in whole municipal area. Regular cleaning process are done by conservancy workers. Whole town will be decorated soon by Green City Mission. We fill proud to be remunerated by people's acceptance as we always tried our best to earn their trust and favor by offering our honest, hardworking services. Its importance has raised to its zenith because near about 15to 20 lakhs of pilgrims from different places of India and abroad pour to this town to visit the temple and offer their puja to the Lord Siva.

Sri Uttam Kundu
Welcome to
TARAKESWAR MUNICIPALITY
Tarakeswar, as its name elicited is a famous shrine of Lord Taraknath, the one of the prime deity of the Hindu religion. From the records, the lord Taraknath was founded by the king Bishnudas , his brother Bharamallya & with almost Five to Six hundred Brambhins almost 280 years ago . It invites lakhs of pilgrims from all over India for worshiping the Taraknath throughout the year and as a result Tarakeswar finds place among the famous pilgrims station of India.
In this "Statistical Account of Bengal" Mr. W.W. Hunter describe Tarakeswar as a village containing a large shrine dedicated to Lord SHIVA.
It is one of the most ancient Broad gage Railway of India. At first Hore Miller & Co. submitted a proposal to the dominated Govt. of undivided India for a Railway track from main line to Tarakeswar. The branch line of railway track was inaugurated on dated 5th January 1884 in presence of the Governor General Lord Dafrin, Surendranath Banerjee, Jatindranath Thakur and others.
Read more
Recruitment
Notice
Applications are invited from eligible candidates for filling up the regular posts as shown in the EMPLOYMENT NOTICE button below. Please DOWNLOAD the form and fill up and follow the process mentioned in the notice.
UPDATED LIST OF NSAP AS ON 01/09/2019 UNDER TARAKESWAR MUNICIPALITY